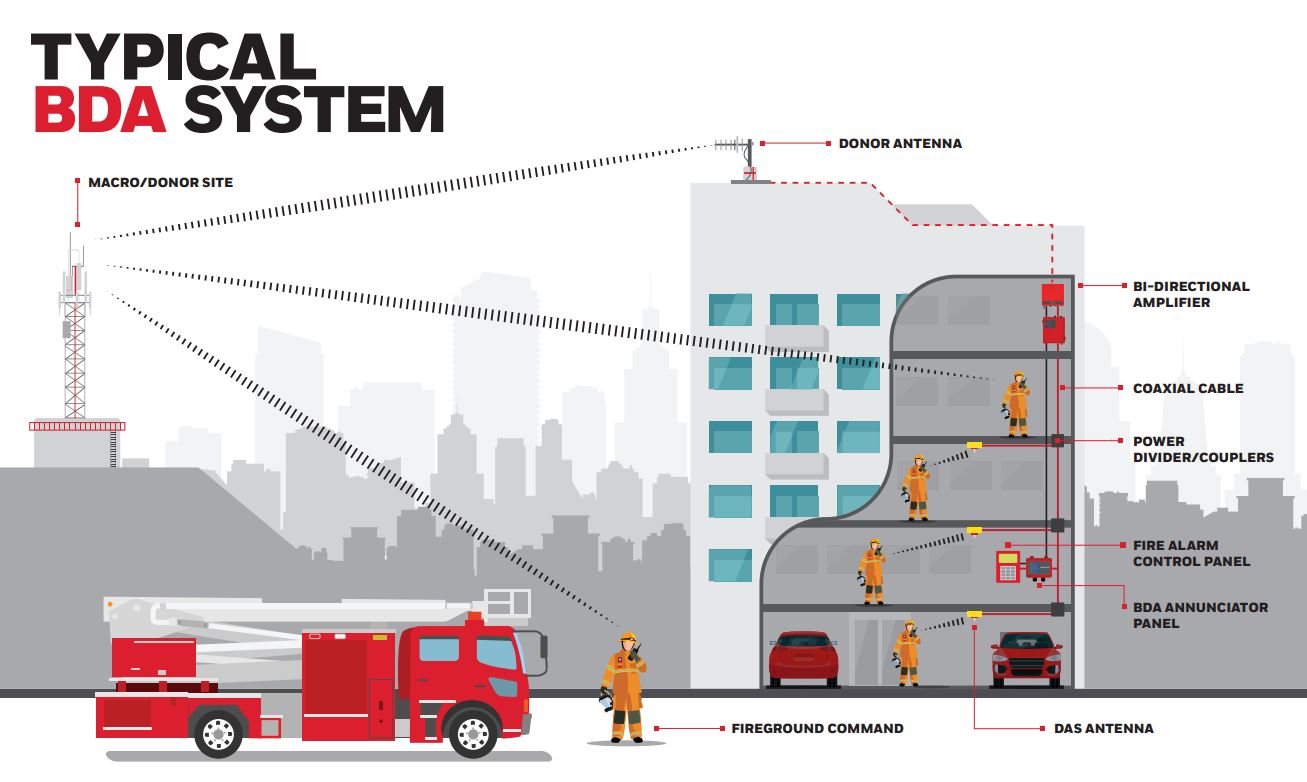 What You Need to Know About ERCES?
Since the introduction of the International Fire Code (IFC) 510, the National Fire Protection Association (NFPA) 72 section 6.10.2 (as well as NFPA 1221) and the International Building Code (IBC) 2012 edition- section 915, local authorities have been working to adopt emergency radio signal requirements into the local fire and building codes. These codes require emergency responder radio signal strength and coverage to be measured in all new and some existing construction. (For more information on these codes, read  Honeywell's Emergency Radio Communication Enhancement Systems Codes & Standards.)
When emergency responder signal strength in a building does not meet the requirements, the code requires an Emergency Responder Communication Enhancement System (ERCES) to be installed. Bi-Directional Amplifiers (BDA) and Distributed Antenna Systems (DAS) ensure that first responders entering buildings can communicate with one another during an emergency. BDA/DAS systems create reliable two-way communication, receiving and amplifying transmissions from radios inside to the repeater antenna outside. They boost the signal by distributing Radio Frequency (RF) throughout a building. These systems are designed to overcome interference and common impairments to signal strength like concrete, metal, low-E glass windows, underground structures, building materials, etc.
Building owners, architects, engineers, and contractors are responsible for meeting these requirements that protect emergency responders and the people they serve. They must ensure that the required ERCES are installed, serviced, and maintained in accordance with the codes. As facility requirements for ERCES/ BDA installation evolve at a local level, it is critical that the responsible parties know the code requirements and that the ERCES system designers and installers are appropriately certified. These systems can be detrimental, rather than helpful, to the overall local emergency radio communication system if designed and/or installed improperly.
When planning for the design and installation of the required BDA system, facility owners should consider:
Project Design

In new construction, it's essential for your designer to factor in ERCES codes. If you have concerns about the construction or have an existing building, you need to know for sure if there is adequate signal throughout the building or if you need to invest in a BDA system.

It is important to have a certified technician do a site survey to test your building for emergency responder radio signal availability and provide you a clear understanding of the radio signal needs of the building.

 

BDA systems do not plug and play; each one is different. Once a site survey is completed, the BDA design should cover only the enhancement of the building areas needing it. Additional signal enhancement over what is required can cause significant emergency radio signal interference; an improperly designed and installed system in a single building can impact the reliability and operation of an entire public safety radio network within a jurisdiction. ALWAYS USE THE MINIMUM GAIN AND LOWEST POWER LEVELS NECESSARY TO MAINTAIN RELIABLE COVERAGE.

Reliability and survivability of these systems require power back-up, redundancy, and public safety grade equipment.
Project Equipment

There are two types of BDAs, one for two-way radios and one for cell phones. Public safety BDA systems are two-way radio systems used to assist first responders in the event of an emergency.  Public safety bi-directional amplifiers for two-way radio systems and a BDA intended for cellular phone usage cannot be interchanged. It is critical that the equipment used for the purpose of enhancing emergency two-way radio systems is the correct type of BDA.

The BDA system must be manufactured with the appropriate UL 2524 standard.

UL 2524 comprehensively integrates requirements from the International Fire Code, NFPA 1221, NFPA 70, NFPA 1, and NFPA 101. As with all of its public safety equipment listings, Underwriters Laboratories provides independent third-party certification of the BDA with the objective of ensuring full code compliance and proper functionality. If the Bi-Directional Amplifier of an ERCES is not UL-Listed, the product is supported only by the manufacturer's claims; the Authority Having Jurisdiction (AHJ) has no guarantee that this crucial equipment will function properly. UL Listed public safety equipment removes the risk of liability and is therefore essential to all parties involved. Most jurisdictions will not approve a system that lacks proper UL certification.

ERCES must also be FCC certified and must clearly display an FCC ID number and the required compliance labels. Using signal boosters that do not have FCC certification is a violation of federal law and users are subject to fines and /or imprisonment. System integrators must ensure that they are not selling or installing an uncertified product which may cause interference.

Project Installation

BDA systems, when required, should always be installed by experienced technicians who understand the complexities of wireless specific systems and the individual designs needed for top performance in different buildings.

All technicians performing BDA installations should hold a Federal Communications Commission (FCC) General Radiotelephone Operator License (GROL) and factory certifications for the ERCES platform provided.
During this evolution of ERCES requirements, it is crucial that building owners and the local AHJ work together with reputable, certified installers using the correct equipment to facilitate appropriate ERCES installation as it is needed in their facilities. As with any newer technology, there is a high need for education and oversight to ensure that the safety needs of the community are being met. When done properly, BDA systems are a great asset that enhances public safety. If done incorrectly, they can be a huge liability!
For more information about ERCES and code requirements, contact our team at info@abscosolutions.com  or join us at our webinar, BDA Systems Meet Code & Keep First Responders Safe, on July 14, 2021